nutritional medicine - what is it?
Nutritional medicine involves healing the whole person, seeking to treat the underlying cause of illness rather than treating only the symptoms. Treatment is focused towards achieving optimal wellness for each individual, with practitioner and patient working together to achieve positive change. Steph uses dietary and body composition analysis as well as dietary modulation, lifestyle change and nutrient supplementation where required.
Every cell in our body relies on nutrients to function and nutritional medicine can be applied to achieve optimal wellness, maintain wellness or treat illness as a sole or adjunctive therapy.
Nutrition is a modality where research is innovative, ongoing and ever-developing and Steph is committed to remaining up-to-date with advancements, providing reliable information and evidence-based treatment. Steph is a member of ANTA, holds current first aid/CPR qualifications and professional insurance and regularly completes ongoing professional development. If your health fund covers nutritional medicine, you can claim part of the cost of your consultations with Steph.
Some of the lifestage events, situations or illness processes which could benefit from nutritional medicine treatment include:
Vegan/Vegetarian nutrition

Transgender health

Chronic disease such as IBS/IBD, diabetes, cardiovascular disease, autoimmune conditions, cancer, HIV/AIDS, epilepsy, lymphoedema etc.

Weight management

Fertility, preconception, pregnancy and breastfeeding nutritional support

Acute illness such as gastrointestinal upset, cold/flu, musculoskeletal injury

Sports nutrition

Nutrition for children

Poor mental health, eg depression, anxiety, PTSD, ADHD etc

Detox support
Where required, a referral may be provided to carry out testing or refer to additional modalities for further treatment.
before a nutritional consultation
steph will email you a food frequency questionnaire to get an idea of your general eating habits and asks that you please also bring along any recent test results (within the past 2 years or longer if relevant)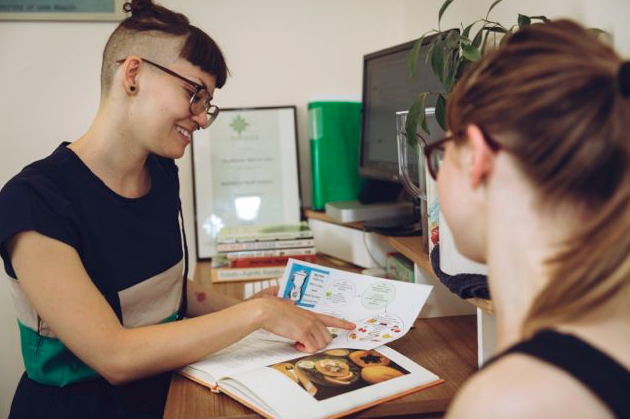 how it works - the initial consultation of one hour will be information gathering about your health history and current health situation and goals. Following this steph will most probably ask you to complete some homework to gather further information.
the second consultation of one hour is where steph will present a treatment plan which is sustainable for you, tailored to your needs and which can be negotiated if/as needed at this consultation. steph will send you off to start this plan!
via in person half hour appointments and quick email check ins, steph will work with you to further refine the plan and help you to achieve your health goals. an extended one hour return appointment is also available should anything extra come up in the meantime. How many consultations you have will depending on what you're coming in for, usual minimum 4 consults.